WE DON'T FALL INTO OUR POTENTIAL. WE RISE INTO IT.
TEAM FX is a step beyond your ordinary, competitive, for-profit marathon and half-marathon training group, that emerged from the Austin Film Community as a means to engage more deeply with our craft, each other and the greater Austin community! We are a diverse group of adventurous, socially conscious men & women, who partner with local business leaders to help end the cycle of child abuse & neglect in our own community. We do that by offering extremely low-cost, "couch-to-race" training to achieve (at any pace) the Austin Marathon and Half Marathon (race day is Sunday, February 18, 2018), while generating awareness and raising funds for the Austin Children's Shelter. Since our debut, a total of 270 team members have helped spread the word, completed eleven marathons and half-marathons, raised over $340,000, and was awarded the 2016 Austin Marathon's most prestigious award, "The David Doolittle Memorial Cup", for excellence in community service. It's a clear and proven WIN-WIN-WIN for everyone involved!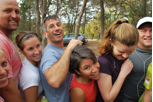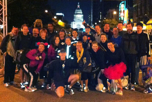 THE TEAM FX COMMUNITY – We are here as an example of the challenges and rewards that can be achieved when we liberate the highest potential of our minds, our bodies and our spirit. We are unified in our vision, our goals and our commitments. TEAM FX members are labeled only as HEROES and are treated as such. There is no fast or slow, strong or weak, rich or poor, professional or amateur, thin or obese, young or old, republican or democrat, black or white, gay or straight, male or female. We are all simply heroes bringing our uniqueness and highest potential together to become true neighbors, to benefit the well-being of ourselves and our community.
WE ARE REGISTERING FOR THE 2018 TRAINING SEASON! REGISTER TODAY!
CHECK OUT ALL THE OTHER WAYS YOU CAN BE A HERO WITH US!
_ _ _ _ _
NEWS: September 8, 2017: IT'S STILL OPEN SEASON FOR TEAM FX 2018 REGISTRATION!!! REGISTER TODAY before registration closes! We had a great One-Mile Kick-Off Walk on Saturday, August 12th, but it's not too late to join. Registration closes Saturday, September 9th! We look forward to having YOU with us! Everyone welcome.
NEWS: February 19, 2017: CONGRATULATIONS to all the members of TEAM FX 2017!!! Once again, 100% of our members who started the race at the Austin Marathon and Half Marathon completed their race! AND we're so pleased to announce that we surpassed our goal for the Austin Children's Shelter, raising $39,184.36!!! WE LOOK FORWARD TO SEEING YOU THIS SUMMER TO BEGIN TEAM FX 2018!!!
NEWS: December 27, 2016: What a great season we're having with 25 team members building awareness and funds for the Austin Children's Shelter. We're over halfway there! Looking forward to seeing you on Race Day, February 19, 2017.
_ _ _ _ _
QUESTIONS? CONTACT US!
See more about our life and events at our Facebook page!
CONTACT US for more information or to get on our secure mailing list!
Team FX Austin, P. O. Box 6910, Austin, TX 78762